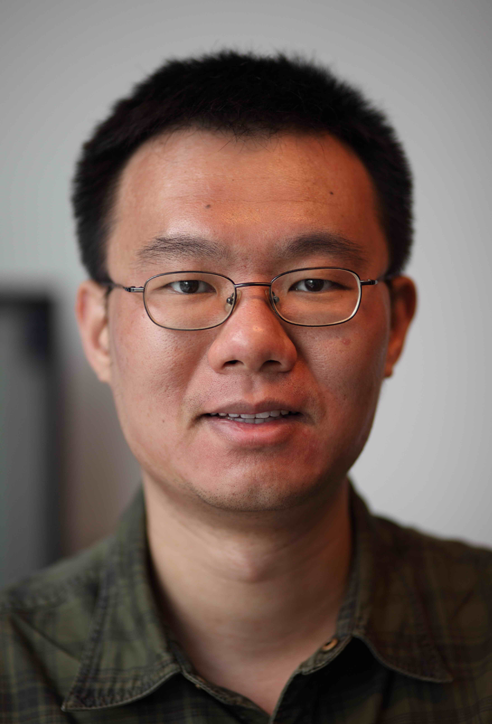 Xinhua Zhang
Senior Researcher
Machine Learning Research Group
National ICT Australia (NICTA)

Adjunct Research Fellow
Research School of Computer Science, CECS
The Australian National University (ANU)

Office Address:
Level 2, Tower A, 7 London Circuit
Canberra, ACT 2601, Australia

Postal Address:
Locked Bag 8001, Canberra ACT 2601, Australia
| | |
| --- | --- |
| Tel: | +61 (02) 6267 6273 (O) |
| | +61 (0) 481 208 994 (M) |
| Email: | |
My research interests are mainly nonparametric methods for machine learning. This includes kernel methods and exponential families, especially support vector machines, conditional random fields, and nonparametric Bayesian methods. I am also interested in probabilistic modeling with graphical models and efficient inference. Using undirected graphical models and kernel representation of distributions, I study the independence tests for structured data which has many applications to unsupervised learning. In practice, large scale optimization techniques are required and I am particularly interested in first order methods such as cutting plane and bundle methods.
I work on applications in pattern recognition, document analysis, image processing, and any prediction problem that is useful in life.
Biography
I am currently a Senior Researcher at the Machine Learning Research Group of National ICT Australia (NICTA). From April 2010 to September 2012, I was a post-doc working with Prof Dale Schuurmans at the Department of Computing Science, University of Alberta. From March 2006 to October 2009, I was a NICTA-endorsed PhD student of the Research School of Computer Science, Australian National University (ANU), working with Prof SVN Vishwanathan and Prof Alex Smola. I visited Prof SVN Vishwanathan at the Department of Statistics at Purdue University from February 2009 to March 2010. From January 2004 to March 2006, I pursued my Master's degree (by research) under the supervision of Prof Wee Sun Lee at the Department of Computer Science, National University of Singapore (NUS). I received my B.E. Degree from the Department of Computer Science and Engineering at Shanghai Jiao Tong University in July 2003. My hometown is Shanghai.
Find Me